Human-Animal confrontation or conflict especially those involving wild animals like lions and tigers have always garnered lot of media attention. As we all know, Gir Sanctuary in Gujarat is home to Asiatic Lions. Lion sighting is very common in the villages that are located in the vicinity of the sanctuary.
Lion sightings have been reported even in villages that are located at a distance of 50 – 60 km away from the sanctuary. One such village is Madhavpur village which is a coastal village near Porbandar. Recently a video clip, which happens to be at least one year old has gone viral on social media, wherein a lion can be seen running a past a group of people in the Madhavpur village.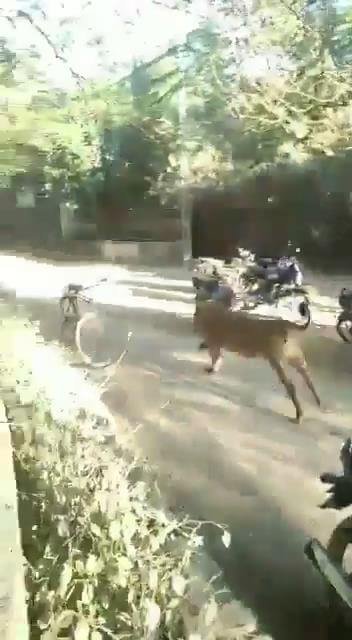 Interestingly, Madhavpur village is at a distance of 50 km from Babra Vidi, which is the nearest permanent habitat of lions in Junagadh district.
This clip garnered public attention as it was shared on Twitter by Susanta Nanda who reportedly is associated with Indian Forest Service (IFS). Nanda shared the video by giving a caption that "Imagine being charged at a speed of 80 kmph, Even Usain Bolt cannot escape".
Imagine someone charging at you at 80kmp 🤔🤔
Even Usain Bolt can't escape( Average speed-38kmp)from a charging lion. In such a situation, where will u find tolerance for each other other than India? Video from Madavpur village of Gujurat( VC-SM) pic.twitter.com/PLyOMq6oDv

— Susanta Nanda IFS (@susantananda3) March 7, 2020
Looking at the clip, some users commented that the Lion was not charging, rather he was scared and was finding his way out.
Charging ? That's not charging. It's a lion running away, escaping

— Chintan Sheth (@blueczkfox) March 7, 2020
One user, also questioned about Lion's safety, to which, Nanda replied that he is very much safe.
Is the lion safe ??

— Trusna Meher (@AiyanaAsin) March 7, 2020
We hope you find this article interesting.
Thank You
Team HopyTapy