Lot of confusion prevailed among the masses and merchants pertaining to Ministry of Home Affairs notification regarding the opening of shops from 24th April 2020. To address various speculations, the Government and its officials had to repeatedly issue clarifications as to which shops can remain open and which cannot.
MHA issues clarification on order allowing the opening of shops. MHA release states, "In rural areas, all shops, except those in shopping malls are allowed to open. In urban areas, all standalone shops, neighbourhood shops & shops in residential complexes are allowed to open". pic.twitter.com/SnFT7L1k2j

— ANI (@ANI) April 25, 2020
Although this was primarily an easing measured considering the business interests of small merchants, many people feared that it may actually undo the controlled situation which has so far been maintained on account of lockdown.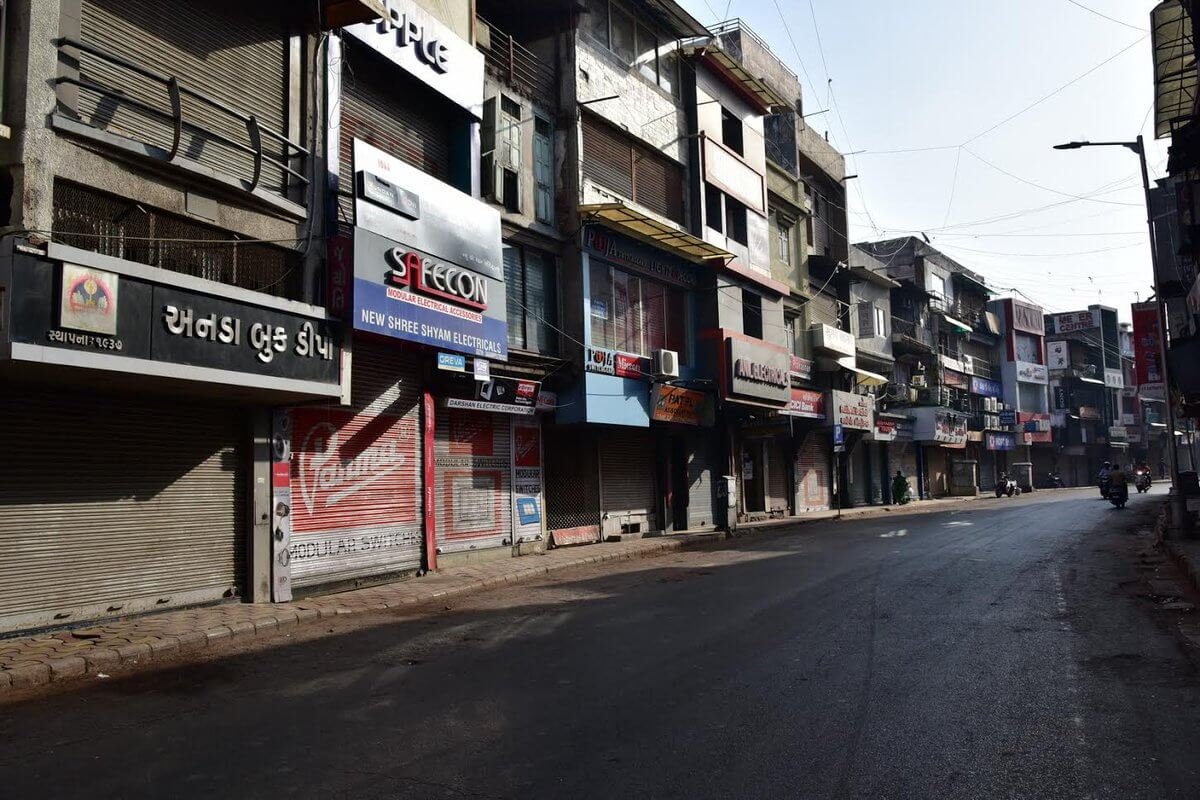 However, on 26th April 2020, Gujarat Government took a decision, not to open any shops under aforementioned notification in four cities of Ahmedabad, Vadodara, Rajkot and Surat till 3rd May. This decision has been taken after due discussion with merchant associations and respective Municipal Corporations, who have mutually agreed that given the surge in coronavirus cases in these cities, it will be beneficial to not open the shops as of now.
પ્રવર્તમાન કોરોના વાયરસના વધતા સંદર્ભમાં અમદાવાદ, વડોદરા, સુરત અને રાજકોટ મહાનગરોના મ્યુનિસિપલ કમિશનર અને કલેકટરોએ સંયુકત રીતે નિર્ણય કર્યો છે કે આ ચારેય મહાનગરોમાં તા.3 જી મે સુધી દુકાનો – વ્યવસાયો ચાલુ કરવા દેવામાં આવશે નહિ અને બંધ રાખવામાં આવશે. #GujaratFightsCovid19

— Vijay Rupani (@vijayrupanibjp) April 26, 2020
With this, just like pre-24th April 2020 situation, only those shops selling essential goods and goods meant for daily use will be allowed to remain open. Lockdown order will continue to be strictly enforced in hotspot areas as well as designated containment zones.
લોકડાઉન દરમ્યાન અગાઉ ચાલુ રહેલી જીવનજરૂરી અને આવશ્યક ચીજવસ્તુઓની દુકાનોને જ આ મહાનગરોમાં ચાલુ રાખવા દેવામાં આવશે.#GujaratFightsCovid19

— Vijay Rupani (@vijayrupanibjp) April 26, 2020
Earlier, under Union Home Ministry's notification, it was clarified that only small stand alone neighbourhood shops and those which are not in any market area or malls will be allowed to open. Among such shops, eateries, barber shop and salons were not included.
રાજ્યમાં અન્ય જે વિસ્તારો – જીલ્લાઓમાં રવિવાર તા. ર૬ એપ્રિલથી ધંધા વ્યવસાયો શરૂ કરવાની છૂટ આપવામાં આવી છે. તેમાં પણ મોલ, માર્કેટ કોમ્પ્લેક્ષ, હેર કટિંગ સલૂન, બ્યુટીપાર્લર , પાન-ગુટકા-બીડી-સિગારેટનું વેચાણ કરતી દુકાનો, હોટલ રેસ્ટોરન્ટ ચાલુ કરી શકાશે નહીં.#GujaratFightsCovid19

— Vijay Rupani (@vijayrupanibjp) April 26, 2020
Thank You
Team HopyTapy