Recently, a video of Bollywood Superstar Salman Khan went viral on Social Media. This videos was shot at Goa Airport, in which, a young boy was trying to shoot a selfie with Salman Khan while he was walking. Apparently, Salman Khan did not liked this behaviour, so he snatched the guys phone and started walking away.
Take a look at the video to know how exactly this unfolded:
Arrogant #SalmanKhan
Misbehaving with Fans @BeingSalmanKhan pic.twitter.com/H0ujQPHzrP

— FilmyKida (@itsFilmyKida) January 28, 2020
Ok, so as it always happens, opinion of public seemed to be divided on this issue. There were some who supported Salman Khan's act of snatching away the phone, saying that he must be exhausted and he is just another human being, while others advised him against behaving in this manner with his fans.
Here are the reactions of some social media users:
Oh come on ! He might be exhausted! He's a human only .. stop trolling!

— Sthiti (@CupcakeBakeoff) January 28, 2020
Why complain? Taking selfie without permission is also a sign of bad behaviour and he got a tit for tat! Filmstars are made demigod by these fanatics so there is no point cribbing now.

— Sumit Sarkar (@Sumit58492554) January 28, 2020
Arrogant, are you serious?

That so called fan was crossing his limits by invading his privacy. He should have taken his permission to click… If you're a fan that does not give you privilege to barge someone's privacy..

— 🇮🇳 radikwohc बाबा यागा (@RohanM50290080) January 28, 2020
Being a celebrity, people & your fans will take selfies in public places. Your attitude & behaviour is most deplorable. You have to tender an unconditional public apology. @BeingSalmanKhan https://t.co/vt6YmRgf98

— Narendra Sawaikar नरेंद्र सावईकर (@NSawaikar) January 28, 2020
Overacting ki dukan…. Film sabhi flop ho raha hai isiliye dusro pe gussa nikal raha hai.. Sala mulla

— HURRICANE™©®/Ronie (@BreakGod1) January 28, 2020
Dabang3 flop hone ke kaaran, frustrate ho Raha hai.

— p shravan kumar (@pshravankumar17) January 28, 2020
8th class fail star se aur kya expect kar sakte ho

— Utsav Rajput (@UtsavRaj1901199) January 28, 2020
Don't forget #SalmanKhan u r hero just because of these kinds of fan, respect them to get respect. Otherwise how we make u hero, same we can make footpathia

— Chowkidar samrat gayen (@samratgayen) January 28, 2020
And yeh bigg boss mein logon ko dusron ki izzat karna sikhaatey hain…😅

— Shravan Magun (@MagunShravan) January 30, 2020
As soon as the video went viral, the matter escalated and Congress Party's student Wing, National Students Union of India (NSUI) demanded that Goa Chief Minister should issue an order to ban Salman Khan from entering Goa. NSUI's Tweet mentioned that ban should be placed on Salman Khan till he gives a written apology for his behaviour.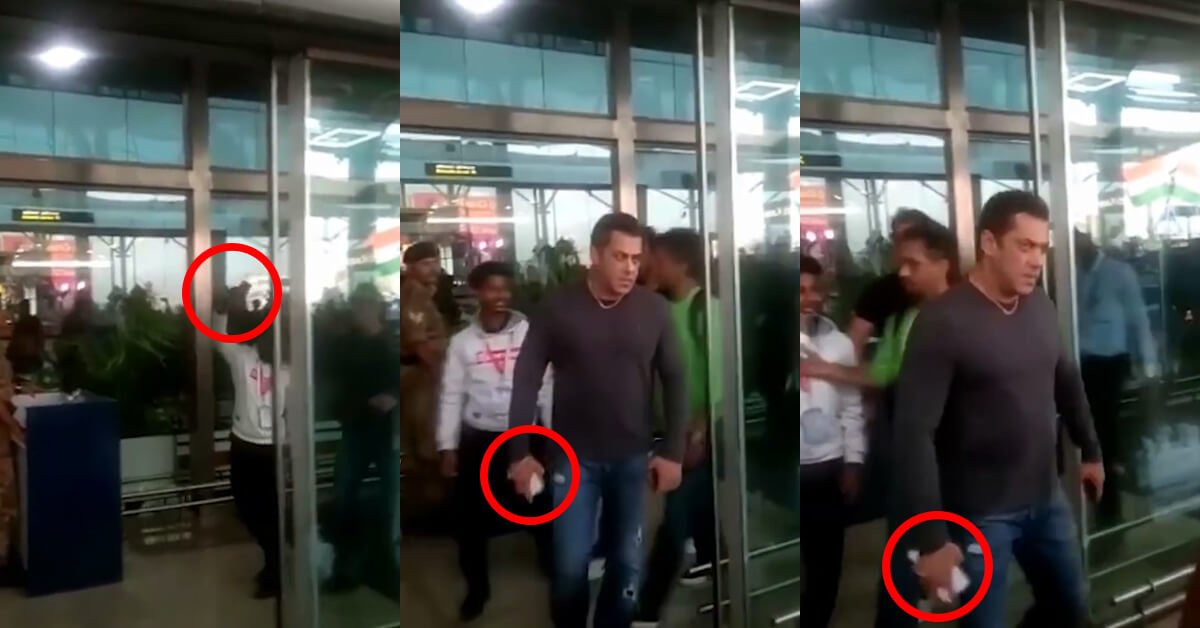 It is to be noted that, these days, Salman Khan is shooting for his upcoming movie 'Radhe'. The guy, whose phone was snatched, happens to be a staff member of Goa Airport. In the video, it can be seen that after his phone was snatched, he followed Salman Khan and his team. But whether he got his phone back or not has not been clarified yet. As per Goa Police, no complaint has been filed in this matter so far.
This is not the first time that Salman Khan has snatched anybody's phone trying to take photos. Earlier, he was seen riding a bicycle on streets of Mumbai. At that time he snatched away a photographer's phone, who was trying to take his pictures.
What is your opinion about this issue? Please write it in the comment box.
Thank You
Team HopyTapy