Amid the ongoing nationwide lockdown, TV channels have resumed broadcasting their top shows so that people remain entertained and are motivated to stay at home. Doordarshan Channel has once again attained popularity among masses as it started re-telecast of epic serial Ramayann directed by Ramanand Sagar. Along with Ramayan, other serials which had been popular in the past are also being re-telecasted by Doordarshan.
Union I&B minister @PrakashJavdekar:

Happy to announce that on public demand, we are starting the re-telecast of 'Ramayana' from tomorrow (Saturday, March 28) on @DDNational

– One episode in the morning 9 am to 10 am
– Another in the evening 9 pm to 10 pm pic.twitter.com/LKdHIdXVce

— DD News (@DDNewslive) March 27, 2020
Due to this, Doordarshan has racked up high viewership as compared to any other TV channel. Recently, Prasar Bharti shared viewership data of Doordarshan, which came as a pleasant surprise for viewers as well as Doordarshan itself.
Prasar Bharti shared this information through a tweet, in which it was mentioned that Doordarshan has broken its own viewership record in the 14th week of calendar year 2020. Doordarshan received 1.5 billion viewership in the 13th week of 2020. At the end of the 14th week, the channel has received 1.9 billion viewership. These numbers itself are huge achievement for the channel.
DD National continues to be No. 1 for two consecutive weeks in a row#IndiaFightsCorona#IndiaFightsBack pic.twitter.com/HPT8MhdAsz

— Prasar Bharati (@prasarbharati) April 16, 2020
The surge in Doordarshan's viewership can be attributed to the re-telecast of popular TV shows of the past. Among these shows, Ramayan has attained highest TRP.
Other old shows that are being re-telecasted include 'Mahabharat', 'Byomkesh Bakshi' and 'Shaktimaan' among others.
After Ramanand Sagar's Ramayan, now Doordarshan brings you another epic show BR Chopra's Mahabharat starting from tomorrow (March 28) on its @DD_Bharati channel. #IndiaFightsCorona pic.twitter.com/weN46uVEBN

— Prasar Bharati (@prasarbharati) March 27, 2020
MUST WATCH –#RajitKapur in a role with which he will be associated forever! Detective show #ByomkeshBakshi from 28th March at 11 am only on @DDNational pic.twitter.com/OTQpoAtCOx

— Doordarshan National (@DDNational) March 27, 2020
लीजिए मैं आ गया हूँ आपको ये बताने कि शक्तिमान को आप DD National पर आज से देख पाएँगे,रोज़ रात ८ बजे। pic.twitter.com/0dLPLdITGG

— Mukesh Khanna (@actmukeshkhanna) April 1, 2020
Interestingly this phenomenon of re-telecast of old popular shows and its success has caught the eye of other private TV channels like Zee and Star and they too have started re-telecasting old popular TV shows of their channel.
As 'Ramayan' is drawing towards an end, some viewers have started demanding the re-telecast of serial 'Shree Krishna' which also was directed by Ramanand Sagar.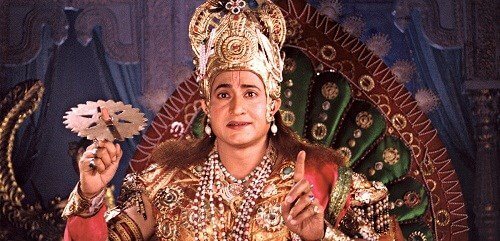 Thank You
Team HopyTapy