Due to Coronavirus, we are all locked up in our houses. We are in such a situation right now that if we don't have any specific important task to complete, we just take up whatever we feel like doing to kill the boredom at times. Even the superstar Amitabh Bachchan has not been able to save himself from this situation.
Everyone knows that Amitabh Bachchan is very active on various social media platforms where he regularly shares funny posts to entertain his fans.
View this post on Instagram
Recently a new episode was added to these series of funny posts. To our dismay, the Coronavirus has made us all wear masks all the time and we can't even show our face to someone! But these masks have contributed a lot in our fight against Coronavirus!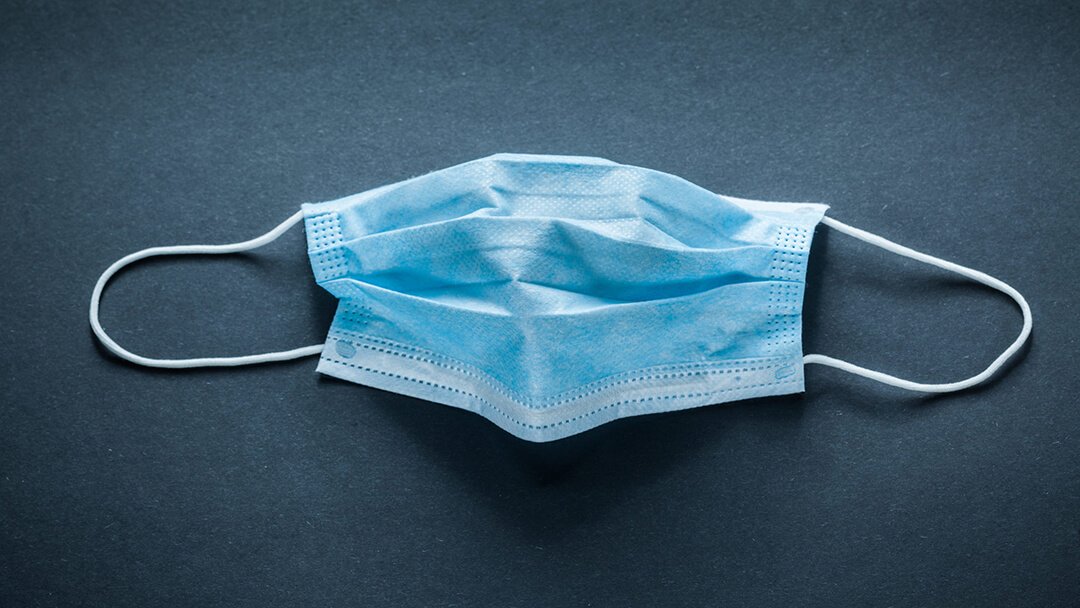 Have you ever wondered what is a 'mask' called in Hindi? Your answer would probably be a 'NO'! Isn't it? Well, Amitabh Bachchan after a lot of efforts has finally found the answer to this difficult question! He has discovered the Hindi word for mask! This Hindi word for mask is not just funny but it is nothing short of a tongue twister!
He shared a picture of himself on Instagram in which he is seen wearing a mask. We can also see an illustration of his film 'Gulabo Sitabo' printed on that mask. While sharing this post, he wrote, "Mil gaya! Mil gaya! Mil gaya! Bohot parishram ke baad, mask ka anuvaad mil gaya (Found it! Found it! Found it! After a lot of effort, I found the Hindi term for mask). After a lot of hard work by Ef Vb, he did the translation of 'MASK', in Hindi : nasikamukhsanrakshak keetaanurodhak vayuchanak vastrdoriyuktpattika."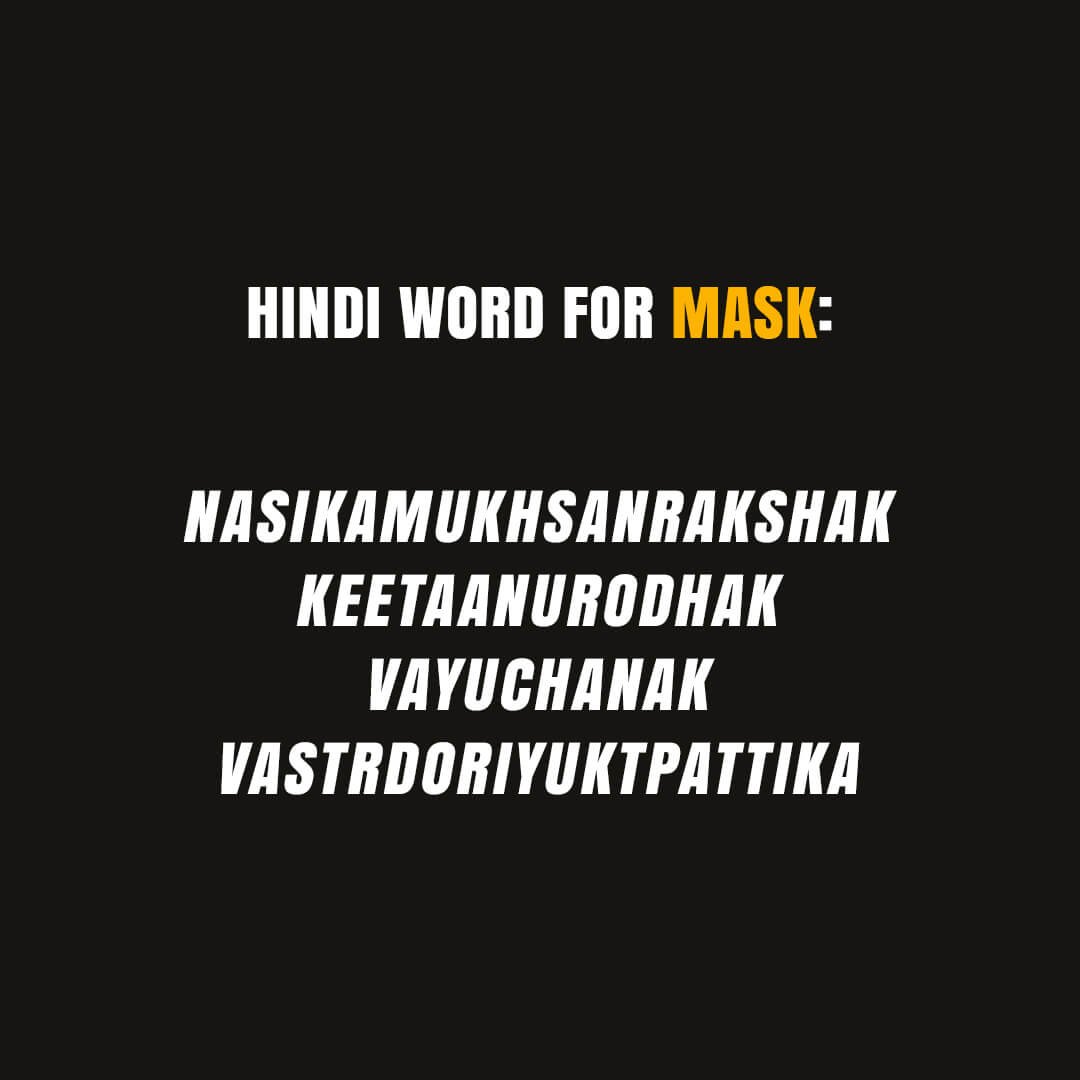 Fans were baffled by this complicated Hindi word for Mask! Here is how some fans reacted to this post: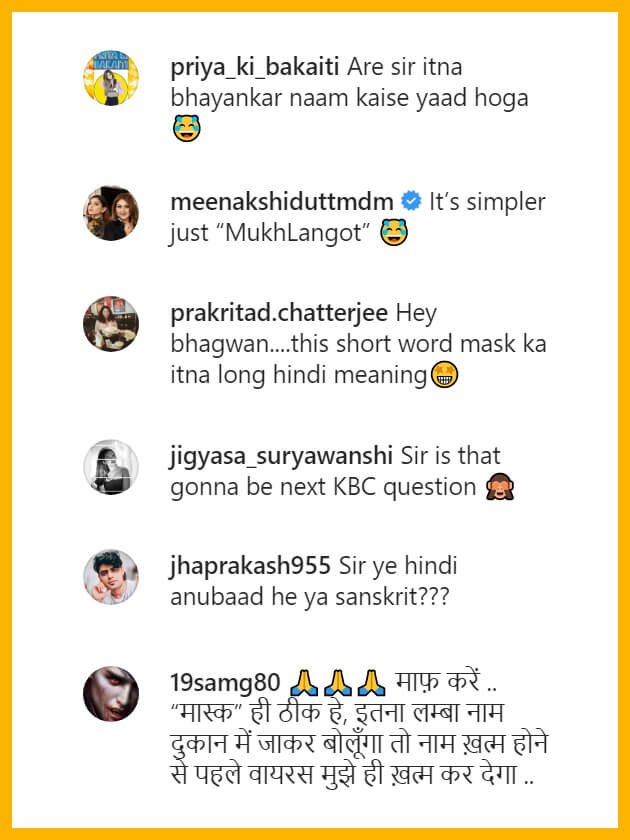 Prior to this, Amitabh Bachchan also shared a post about the Jagannath Rath Yatra which started on June 23. Sharing a picture of this Holy place with his Fans, he wrote, "June 23 Jagannath Rath Yatra .. because of the vastness of the Festival the English word 'juggernaut' meaning huge powerful and overwhelming, was derived from it .. the origin of the word came from here JAGANNATH and the incredible temple in Puri Orissa."
At the same time, the film 'MILI' completed 45 years recently. Amitabh Bachchan and Jaya Bachchan worked together in this film. Big B had shared an anecdote of the film in which he told that for the first time he had done a drunk scene from this movie. He writes, "Art work for our film MILI .. Jaya and me .. and my first drunk scene .. much before mirror scene of AAA , Satte pe Satta and HUM or Shakti"
Talking about Amitabh's latest film 'Gulabo Sitabo', it has been released on Amazon Prime Video on June 12, with Ayushmann Khurrana in the lead role alongside him. Amitabh plays the role of a grumpy old landlord while Ayushmann plays the role of a stubborn tenant in the film.
Thank you,
Team HopyTapy